Investment markets and key developments
Global equity markets remained under pressure over the past week on concerns about rising US inflation and accelerating US interest rate hikes. Omicron-related disruptions and tensions with Russia over Ukraine aren't helping, although markets don't seem too concerned about Omicron. For the week, US stocks fell 0.3%, Eurozone stocks fell 0.9%, Japanese stocks lost 1.2% and Chinese stocks fell 2%. The weak global lead weighed on the Australian equity market which fell 0.8% as declines in retail, technology and property stocks more than offset gains in resources and utilities. Long-term bond yields remained stable or slightly higher. Prices for oil, metals, gold and iron ore rose, as did the Australian dollar, as the US dollar fell. The relative strength in commodity prices, resource stocks and the Australian dollar is a positive sign from a cyclical perspective.
Unfortunately, this year has started out dominated by the coronavirus yet again as new cases have exploded due to the more transmissible Omicron variant. – even if, so far, the markets seem to be accommodating to this to a certain extent. This partly reflects the fact that although Omicron is highly transmissible, it is found to be less harmful, and governments have so far mostly avoided hard lockdowns. However, surging cases are spurring self-regulation and many have to self-isolate, impacting both demand and supply, akin to a lockdown in some countries (including some parts Australia), and this will affect Q1 economic activity both globally and in Australia, before another sharp rebound once the Omicron wave passes. China is particularly at risk as its vaccines are said to be less effective and its zero covid policy is likely to lead to more lockdowns, adding to global supply shortages.
US inflation hit a nearly 40-year high in December of 7%, putting additional pressure on the Fed. The Fed already took a hawkish turn late last year and this was reinforced by recent comments from various Fed officials, including Chairman Powell. We expect inflation to ease a bit this year as output picks up and spending shifts from goods to services, but the Omicron wave and associated further supply pullbacks are likely to delay that. And with a tight labor market and accelerating wage growth in the United States, there is a growing risk that high inflation will take hold. As a result, we now see the Fed raising rates in March, increasing 4 or 5 times this year and starting quantitative tightening in the second half. However, while this will contribute to a more volatile run for the US and therefore global equities, it is unlikely to be enough to end the economic recovery and cyclical bull market, as monetary policy will always be relatively easy and the other major central banks, including the RBA, will lag behind. United States, the Chinese central bank easing its monetary policy this year.
Coronavirus Update
The Omicron variant, which came to dominate globally, saw a global rise in coronavirus cases, led in particular by Europe and the United States. Australia was no exception. The bad news – which was known in mid-December before the global outbreak happened – is that it is far more transmissible than Delta and leads to earlier infection with the coronavirus and vaccines offering much less protection against the virus. infection.
The good news is that it is much less harmful than Delta (perhaps up to 20% less), a booster shot of an mRNA vaccine (Pfizer or Moderna) appears to provide significant protection against infection and against serious diseases, hospitalization and new modified vaccines. are on their way. That it is less harmful is evident in deaths and hospitalizations which remain much more subdued during this wave, even after lags are taken into account. This is evident in the table above for deaths worldwide, but it is also evident in Europe, the UK, the US, Canada and Israel. See next charts for Europe and UK – but they all show a similar pattern.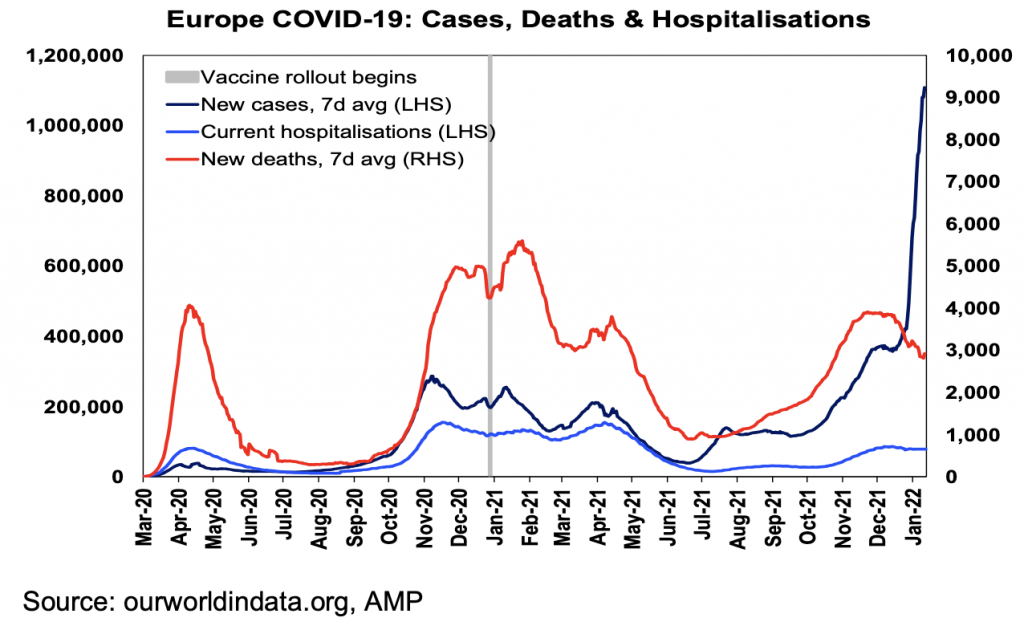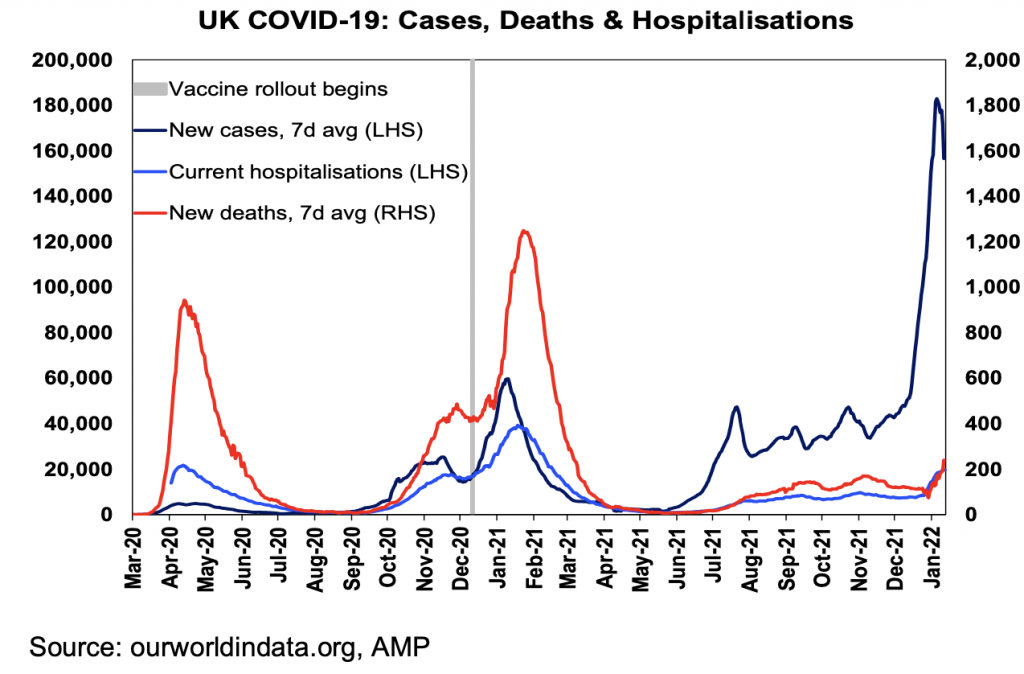 In Australia, the greater transmissibility of Delta combined with the further lifting of restrictions from November, not helped by the relatively low level of previous exposure and booster shots, has seen cases explode compared to the levels seen through the Delta wave. (And given the testing issues, the case data is likely massively understated.) The good news is that, as has been the case around the world, Omicron is proving less harmful and hospitalizations and deaths remain moderate compared to the increase in cases compared to previous ones. waves. See the following table. NSW Health data – although only up to the end of December shows – that while 4% of Delta cases have ended up in hospital, around 1% of confirmed and probable Omicron cases do. And although new deaths are at record highs, they are around 13% of the level suggested by the 2020 surge, reflecting vaccine protection and Omicron being less harmful. (It's similar in the UK.)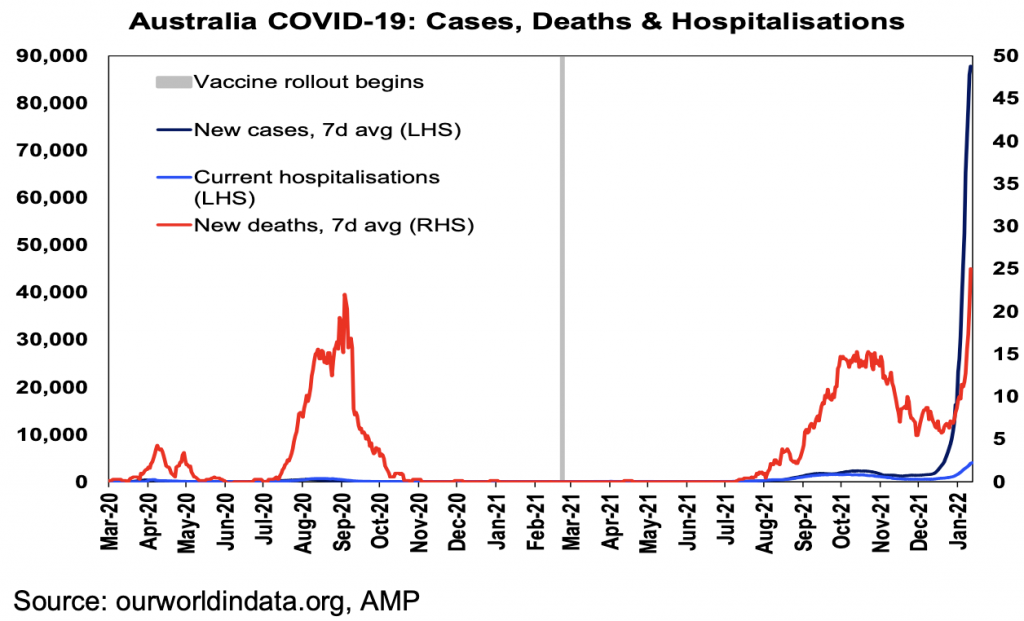 The problem is of course that the explosion of cases always leads to an increase in hospital cases (even if a lower proportion become seriously ill) causing significant stress in the health system. This, added to the large number of people having to self-isolate, impacts both demand and supply in the economy and therefore economic activity without having a formal lockdown. This all highlights that at least trying to slow the spread with mild restrictions in December rather than continuing to remove restrictions that had little economic impact and which we feared for NSW was like playing in Russian roulette with the economic recovery. At this point, we have revised our GDP growth forecast for the March quarter down to 0.6% from 1.6%, but this is a rough estimate and although we are confident of a strong post-Omicron rebound in the economy, leading to growth of around 4% throughout the year. the risk is high that the March quarter will see GDP fall again given the scale of supply disruptions.
Beyond the short-term uncertainties, there are two other bright spots. New cases of Omicron may have peaked in South Africa, the UK (see graph above), Canada and New York – of course we have less natural immunity, but that could be a indicator of a spike in Omicron cases in Australia over the next month or so. Second, there remains good reason to believe this could be the worst yet (yes, I know I may have said this already): if Omicron, with its lower virulence but greater transmissibility, dominates the other variants, so with increasing levels of natural immunity, vaccine protection and new covid treatments could put covid-19 on the way to becoming endemic like the common cold or flu.
In terms of vaccination, 51% of the world's population received two doses of vaccine, and only 10% received a booster shot. The risk is in poor countries where only 20% have had two doses and only 2% have had a booster. It is in the interest of the rich world to help vaccinate poor countries to reduce the risk of new mutations. Australia, with 77% of double vaccinations, is at the high end of developed countries. Only 17% had a booster shot, but this is now increasing rapidly.